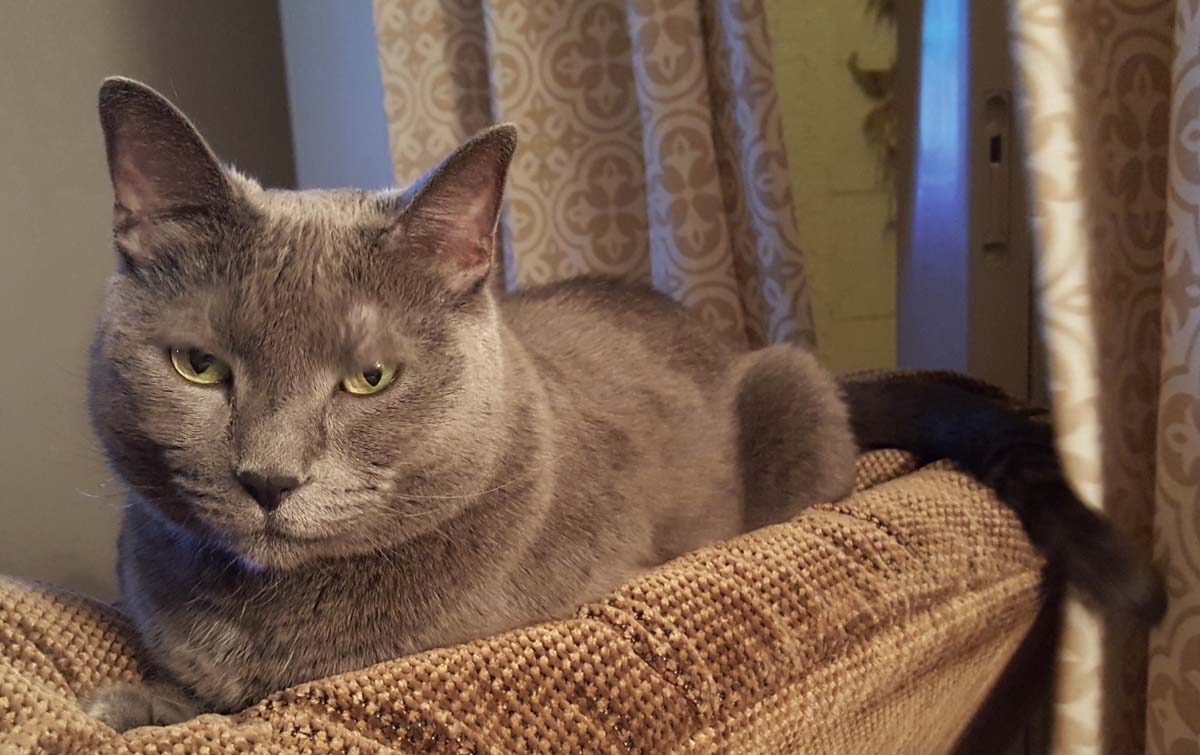 It is with much sadness that I announce the passing of Oliver, our beloved Russian Blue Cat. He passed away on Friday, July 14th 2023 and was about 14 years old. He was an adopted cat in which we were blessed to have him in our family for the last 10 plus years of his life.
This past May, after struggling with what appeared to be "eating" issues combined with the loss of weight and muscle, a visit to the Vet on May 30 revealed that Oliver had Lymphoma. The Vet said it was advanced and that he could "go" at any time. Because of his age, we opted not to do Chemo but rather make his remaining days as comfortable as possible. He passed away 6 weeks and 3 days after his diagnosis.
I first met Oliver at the central Phoenix Humane Society on January 14th, 2013. I believe it was my second trip there seeking a new feline to join our family.
He was in the lowest cubby, furthest away from the "start of the line" of all the cats that were available for adoption that day. I might have missed him entirely if it were not for the fact that I was specifically looking to adopt a cat that had already been declawed. He was one of three that was declawed, although with Oliver, he still had his rear claws.
We went into the "acquaintance room" or whatever they call it and he was purring and rubbing and accepting all the affection I could give him. It was like he was saying, "Please get me out of here… I want to go home with you." I quickly obliged and in no time was home in Anthem with our new family member.
When I adopted Oliver, I assumed he was just a plain looking gray cat, although with a beautiful coat. I did not realize that he was a Russian Blue.
You see, Russian Blues are distinctive from other breeds in that they are less allergenic and very affectionate and loyal to their owner(s). In other words, a Russian Blue, with the right personality, is like a small dog in a cat suit. That was Oliver – kind of like a dog, a lot like a cool cat.
Because I have worked from a home office since about 1999, Oliver quickly became my best buddy and daily companion, hanging out with me in the office all day long as I worked. He wasn't like other cats that sleep all day or hide away from everybody. No, Olliver wanted to be where I was. My wife complained every so often that I spent more time with the cat than her. She was probably right.
Oliver liked to play rough, much like a dog (check out video of him playing with me at end of this post). He'd run after me like he was a lion chasing prey. He loved to "chase treats" daily, typically around 9-10 am. He also liked to wrestle with my arm. Even though he had no front claws, I had to learn how to play with him in a way he didn't get his teeth into the soft parts of the arm. Every once in a while he'd get me, but mostly because I wasn't paying attention.
While Oliver was an inside cat all the time we had him, he did enjoy going outdoors, weather permitting. In fact, once we moved to Ahwatukee, I was able to let him go outside with me without any leash. I'd simply keep an eye on him and follow him around to make sure he didn't jump up on the fence and make an escape. After he had satisfied all his curiosity of the day and enjoyed enough fresh air, he'd always head back to the front door to go back inside of his own choice.
Oliver was very endeared to me, much like a canine would be. He hated when I left him for any lengthy period of time, especially on vacations. After a vacation, he would always be so excited to be reunited with me, typically being very clingy and needy for a day or two after I returned.
Unfortunately, for most of his life he didn't care much for other people, especially children. This is typical of Russian Blues. While I could do just about anything I wanted to him (i.e., pet him, cradle him like a baby, etc.,), when others tried to interact with him, they'd usually be greeted with a hiss. The exception was our granddaughter Jadyn who got to know and love Oliver when she stayed with us for 60 straight days during the Covid lockdowns in 2020.
As Oliver aged, and the kids grew older as well as the same faces being around again and again (family and friends), Oliver eventually became somewhat accustomed to the attention others would give him. His soft and luxurious coat always attracted a stroke or pet. As he was slowly dying of Lymphoma, he gladly received love from any and all who would give it to him.
My family has always had cats, most of them being feral cats in my adolescent days. So, I have a lot of experience with cats and am one of only a few of my male friends and peers that even like cats. I can say without a doubt that Oliver was the BEST cat I've every had the pleasure to know. Whenever I looked at him, I didn't see a small gray cat – I saw a lion! That is in fact what a domesticated cat is after all – a small version of the big wild ones.
He was my buddy and I'm going to miss him. My only regret is that I never knew him as a kitten. I'm blessed however to have had him in our lives for over a decade.
Below is a small sampling of the many photos that I took of him.
I know, that's a sad way to end a post, with a "last photo taken."
So here is a short video taken September 2016 of Oliver playing rough with none other than yours truly.
If you haven't seen enough photos of Oliver here in this post, check out the full archive, all 230 photos, of Oliver's life and times with us at Google Photos.