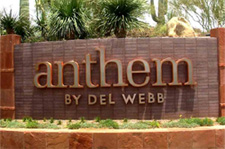 For the most part, I love living in Anthem, Arizona, a master-planned community built mostly by Del Webb (Pulte), located just south of New River. However, I hate my anal HOA (Home Owners Association). In fact they have to be one of the most anal, annoying and idiotic HOAs on the planet. A recent violation notice they sent me has got me all fired up. Now I'm ready for a fight!
Although I consider myself a model neighbor (I abide by the CCRs, keep our home in great shape, have the landscape manicured regularly, etc.), I have had more battles with these "power hungry" powers-that-be than I care to recall. I have received violation notices on several occasions regarding everything  from parking vehicles in the street in front of my home, to leaving trash cans out on days they are not supposed to be out, to even one where they claimed my grass is not green enough. They even go so far as to steal your garage sale signs that are placed around neighborhoods to draw in traffic.
The notices over the grass was so idiotic that it is almost humorous. A few years ago, they sent me a notice that my grass was not green enough. My grass was actually very lush at the time with the exception of a couple of small patches that those pesky rabbits had eaten. I mostly ignored the notice because I thought it was so absurd.
Soon afterwards, we had the grass cut down to the dirt to prepare for overseeding of Winter Rye Grass, something of which the CCRs require Anthem residents to do every year. I got a second notice that my grass not being green enough to which I responded to them that I was in the process of overseeding, something which they required my to do. They admitted to their folly (ignorance) and dropped their action against me.
The latest incident that has really pissed me off and really turned me against HOAs altogether is related to a parking violation. They sent me the first notice a few months back (not the first type of notice I've ever received) about a Jeep parking on the street in front of my house, something of which they strictly forbid. The problem is that the Jeep was not mine, nor did it belong to any visitors to my house. In fact, the day of the incident, my wife and I were out of town. I replied to their notice letting them know this.
Today, I received a second notice related to the first violation saying that I was now going to be fined $25. This time, the notice made reference to a BMW that was illegally parked. Again they got the wrong person as I do not own a BMW nor does anyone who has recently visited our home.
What's even more ironic is that the Anthem HOA does not govern the streets in Anthem, at least in Parkside on the west side of I-17 (the section we live in). Maricopa County does and to my knowledge there is no law restricting parking vehicles on the street at any time. Therefore the Anthem HOA cannot legally enforce this although they do send notices and fine people all the time.
I wrote them back the following response:
---
To whom it may concern,
I received a notice from you which is titled "2nd Notice of Non-Compliance Fine Notification" with regards to vehicle parking on the street. I do recall getting a recent notice regarding a Jeep parking on the street in front of my home to which I pointed out to you in my response that the vehicle was not associated with me or anyone I know. In fact if we are referring to the same vehicle, it is a vehicle belonging to a service person providing services to my neighbor across the street.
This second notice I am writing about makes reference to "BMW ALG3488." Now if that is referencing a BMW, whoever is reporting these so-called violations got it wrong again as I do not own a BMW nor does anyone I know, at least that has been visitors to our home recently.
This being said, we do have service people come to our home including pool service people, landscapers and even more recently, medical staff aiding my dying father-in-law who has been in a hospice situation in our home for the last two weeks. I will not allow these service people to park their vehicles in my garage or carport and it is ridiculous for you to assume that any homeowner in Anthem would allow services to park anywhere but in the street in front of their homes.
Finally, even if I were to park my own vehicles or vehicles of my guests on the street, you have no right to enforce a "no parking" rule as the streets in Park are not governed by the Anthem HOA but Maricopa County and there exists no such parking restriction in Maricopa County's laws governing neighborhood streets. If there is, please reference it to me. Otherwise I demand that you remove the fine imposed on my account immediately and bother me no further with false accusations of parking on the street.
By the way, I have three vehicles that I personally own, all of which are in the garage (come see for yourself) and as of the last two weeks, we have had two additional vehicles parked overnight, one which is my ailing father-in-laws and the other my sister in law, who has been helping my wife take care of their father. Both of these have been parked in the carport during the entire time.
---
So as you can see, both notices were related to vehicles that I had nothing to do with and even if I did, the Anthem HOA has no right to tell me if I can or cannot park on the street. Really, are we supposed to let the landscappers pull the vehicles and trailers into our garage in order to keep them off the street? If we decide to have a gathering or party, are we to limit the attendance to only those who can park in our carport?
Anthem is still a great place to live but if you aren't able to stomach a "Barney Fife" home owners association that is super anal about everything, live somewhere else. I know if I ever move from here, it will be to place where HOAs are non-existent!