I'm done traveling for the year and with my travels, I was fortunate to add another 5 roller coasters to my list. This brings me to a grand total of 133 individual roller coasters I have rode in my life. 5 may not seem like a lot but seeing that I didn't actually travel just to ride coasters but rode these new coasters during normal business travel, I'm satisfied with the number.
Which ones did I add to the list? 2 in Las Vegas, 1 in Primm (just outside of Vegas), 1 in Columbus, Ohio and a new one at Cedar Point which is in Sandusky, Ohio. Here is the breakdown.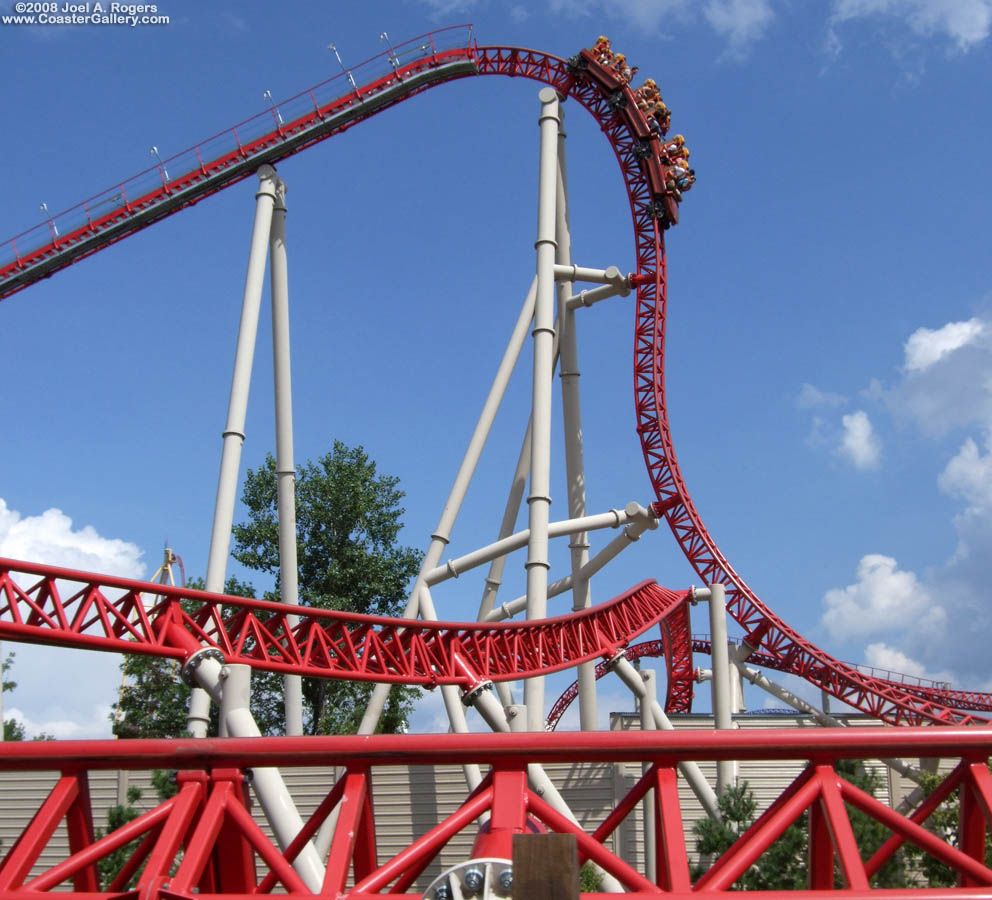 I had been to Cedar Point in Sandusky, Ohio once before where I rode all but one of their impressive list of 16 roller coasters (1 is a true kiddie). That was prior to their newest coaster built by Intamin called the Maverick which debuted in 2007.
My lovely wife Irma accompanied me on this trip to the roller coaster capital of the world. We had attempted to ride Maverick early in our day at Cedar Point however it had broke down. Therefore we opted to come back later in which we waited about an hour and a half to ride it. Yes this is a long wait for a coaster but when you count individual coasters as I do, it was a necessary evil.
I thought the coaster delivered a great ride. Irma did not. In fact she said it beat her up pretty good. This was most likely due to the fact that the turns were so quick that you have little time to react to them.
To add to the suspense, that area of the park was filled with "fog" due to the fact that Cedar Point's Haunt was taking place (they haunt the park in October for Halloween). Therefore it was almost like riding a coaster in the dark. You couldn't see what was coming at you.
Needless to say, I thoroughly enjoyed the ride and in fact found it quite exhilarating to ride not only at night but through dense Halloween fog. I can't wait to return to the park someday and ride it again.
If you didn't think I was a roller coaster nut before you would after learning that I drove to the Columbus Zoo right at closing just to ride a little family wooden coaster they have there called Sea Dragon. I had to pay admission to the zoo itself which I believe was $10 and then another $8 for 2 ride tickets (rode it once in the middle and once in the back).
While the Sea Dragon is hardly impressive compared to today's mammoth woodies, it is an Ace Coaster Classic which makes it a very special coaster. Built in 1956 by Philadelphia Toboggan Coasters and designed by John C. Allen, this family wood coaster has a simple figure 8 design and delivered a mild but fun ride.
Located in the Adventuredome of Circus Circus located in Las Vegas, Nevada, this is a 1993 built Arrow Custom Looping Coaster. At $7 a ride, it is a bit pricey but gave me a good ride nonetheless. I gave it a thumbs-up review on Likes n' Gripes.com.
The Adventuredome does have a small family coaster called Miner Mike as well but they wouldn't let me ride that one as it is a true kiddie coaster and I'm too big. Don't think that I didn't try though.
Located at the New York New York Hotel & Casino in Las Vegas, Nevada, this coaster looks impressive with its 203′ height and initial drop of 144.′ Not too mention that it reaches speeds up to 67 mph and has a pretty impressive track length at 4777 feet.
Unfortunately looks can be deceiving and I had to give this one a thumbs-down review at Likes n Gripes.com. My dislike of this coaster mostly stems from the awkward restraint system as well as boring track design and finish.
This mega coaster is located in a very unlikely place – a casino, and one that is located about 35-40 miles south west of Vegas. Situated in Buffalo Bill's Resort & Casino located in Primm, Nevada, Desperado stands 209′ in height and has an initial drop of 225′ (goes into ground). 5843 feet of track at speeds up to 80 mph, this mega coaster delivered quite a thrilling ride.
We almost did not get to ride this coaster as it had been closed down by the time we arrived at the casino. We waited around for about an hour and was about ready to give up on it and head to Disneyland when they opened her up. Irma rode this one with me and loved it as much as I did.
I probably would have never drove to Primm just to ride this one coaster but seeing that I was in Vegas on business and Primm was only about 30 minutes away, it provided the opportunity to add another great coaster to my growing list.
What's In Store For Next Year?
I have no definite plans yet. I'd love to get over to San Diego to ride Journey to Atlantis located at Sea World and the Giant Dipper located at Belmont Park, both of which I have never ridden. There is also a new coaster at Magic Mountain – Tatsu, a B&M flying coaster that debuted in 2006 as well as a new woodie they are building called Terminator: The Coaster. Not too mention there are a few older coasters at Magic Mountain I have not ridden as during my last trip there I was unable to fit all of them into my schedule.
I'd love to get over to Walt Disney World in Orlando as I have never been but not sure that will happen next year. I'd also love to travel to the midwest as there are many parks there with coasters I have yet to experience. Will have to play it by ear and see what is in the cards.
Finally, if interested, a link to my "roller coaster list" (Excel Spreadsheet) which includes all the coasters I have ever ridden.