The band U2 has always been one of my favorites. From Bono's superb singing voice to Edge's unique guitar playing style to the quality and substance of their music, they have always thrilled me with their music and performances. Now a new book has been authored by my very good friend, Matt McGee that details all of the relevant day-to-day events that have shaped U2 into the band it is today. It provides the important stories behind the 'who, what, when and where' including insights about key moments in U2s development that have never been told before.
And who is this Matt McGee and why is he qualified to write a book about one of the all time greatest bands to ever have existed? Matt runs the most popular U2 fan site – @U2, which is not only the oldest independent site for U2 fans on the Web but has been invited to co-host events at the Rock and Roll Hall of Fame in Cleveland and has earned numerous awards over its long history. In December, 2007, Entertainment Weekly included @U2 at #4 on its list of the 25 Best Fan Web Sites covering music, movies, or television. All these accomplishments make me very proud of my friend.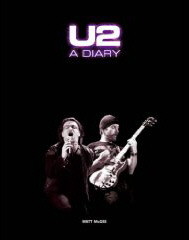 And now he is an author! His book – U2 – A Diary is available for pre-sale and is scheduled to be released tomorrow. With the release of this book, Matt invited several of his friends and peers to ask him five questions about the band, the book or even Matt himself. I decided to take him up on that offer and below are his responses to my questions.
1. When did you first become a U2 fan and why?
My first encounter with U2 was 1981, when I heard "I Will Follow" on a Philadelphia radio station — WMMR-FM. I liked the song well enough, but not enough to really investigate the band or even buy the BOY album. Then when I heard "New Year's Day" in 1983, that was it. What an amazing song — it gave me chills then, and still does today. That prompted me to buy the WAR album, which prompted me to learn more about the band, and I was hooked. Why? Great music, and music with substance. They had something to say, and I was all ears.
2. How did the @U2 site come about? Did you ever envision it becoming the number 1 fan site for U2?
Heck no! It started out mainly as a place for me to post some photos I had and some old news clippings I'd been saving over the years. Like every other web site in the mid-1990s, it was pretty much crap in terms of design and usability. But I think it was the only place you could find and read old news articles about the band. So that attracted an audience, and then other fans would send me their own clippings to transcribe and add to my site. It snowballed from there to the point that I needed to start adding people to help covering current news and adding old news.
3. Have you ever met any of the band members and if not, do you think you ever will?
I have not met any of them. I'm not the type of fan to stand in line before or after a concert to get a handshake and an autograph, and I'm not the type to wait for them outside their hotel or anything like that. It's just not my style. I'm not real comfortable with the typical band-fan relationship, where the artist is WAY UP HIGH on a pedestal, and the fan is WAY DOWN BELOW. I'd like to meet them some day, but only when it can be on an equal footing, man to man … not fan to band.
4. Do you know the "real" names of Bono and Edge (or is that their real names)?
Sure — Bono is Paul David Hewson. Edge is David Howell Evans.
5. To your knowledge, is U2 a Christian band?
Oooooh. Now that's a loaded question! This is something that gets discussed pretty regularly in Christian music circles, and also in U2 fan circles.
Here's my take: They're a band of believers who make music that praises God, questions God, is inspired by God, and inspires others to know God. They write songs about the same stuff you read about in the Bible, and hear about on Sunday mornings. They make a lot of Biblical ideas palatable to people who might not otherwise be comfortable reading the New Testament or sitting in a pew.
So, are they a Christian band? I think that evidence says yes. But they also use swear words, drink alcohol, and enjoy some of the fruits of their riches. So, some Christians say they're not a Christian band. I suspect U2 likes it that way.
============================
Well there you have it – a peek into Matt's extensive knowledge of this remarkable band. Want to learn more? Pick up a copy of his new Book – U2 – A Diary either online or when it becomes available in book stores.