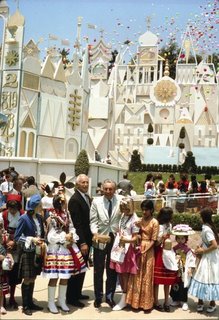 Most everyone that has visited the "It's a Small World" attraction in Disneyland knows all to well that its theme song will stick with you for the rest of your day. Many would also agree that it is not as "thrilling" as Space Mountain, Indiana Jones or other thrill rides at the original theme park. However, it is nostalgic Walt Disney. Add to that the original intent of the attraction of clearly suggesting the core similarity of many peoples inhabiting a single planet and that we should be able to share the world in equality and peace. Sadly, this is all about to change.
The attraction is currently on a 10-month hiatus so that the boat flumes can be replaced with a deeper design more appropriate for todays heavier boatloads. However, that is not all that is changing. WDI (Walt Disney Imagineering) is staking out areas throughout the attraction to place a selection of smiling Disney characters to spice up the proceedings. Imagine a grinning Stitch in Hawaii, a demure Belle in Paris, a Peter Pan in London.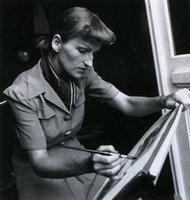 The Re-Imagineering web site even reports that the gorgeous New Guinea rainforest scene, replete with some of Mary Blair's most whimsical character creations (a crocodile with an umbrella, colorful birds hatching from eggs) and her drummer children with Tiki Masks on the opposite shore will be replaced with a Hooray for U.S.A sequence.
Why is this wrong? Not only will this move be a brutal dismissal of May Blair's profound and enduring influence on the Disney esthetic, it will also take away from the original message of shared humanity using children. "Cute as they may be, Belle, Mickey, Stitch or Nemo have nothing to do with selling the core values of UNICEF, the show's original partner. Their appearance not only trivializes the central theme but more disturbingly seems to emphasize global brand marketing and franchising above all else," states theRe-Imagineering site.
When WDI made the decision to incorporate the Captain Jack Sparrow character from "The Pirates of Caribbean" movie into the original attraction that was the source for the movie, many feared it would ruin one of the last projects Walt personally worked on before his death in 1966. However, I feel they did a great job placing the character throughout the attraction without taking away from its originality. In fact, now that a series of movies had been made based on the story of the attraction itself, it seemed a natural fit to place Johnny Depp's character within the ride itself.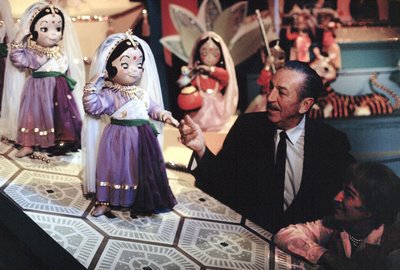 This is not the case with incorporating Disney characters in the It's a Small World attraction. It is more of a corporate "for profit" move than anything else. What's to follow – making people exit the ride through a merchandise store? We will have to wait and see.
My personal feeling is that it is okay to "spruce" up the ride, even enhance its technology as they have done with many other older Disneyland attractions. But don't take away from its original theme by placing characters that have no place within the attraction.
Re-Imagineering is suggesting a "Save the Rainforest" campaign where they urge those interested in preserving the originality of the attraction to send letters out to all corners of the company pleading for a halt to the desecration of Small World once and for all. The hope is that with enough of a hue and cry from those of us who actually pay the bills at WDI, corporate Disney might do an about face.
In summary I take a quote from the Re-Imagineering post that brought this to my attention:
"It's a Small World" is a work of art. Those fortunate enough to be the caretakers of a masterpiece are more than welcome to try on a new frame once in a while, to carefully restore its surface, switch out the lighting or even move the piece to another room. But even the most fool-hardy owner knows not to paint over the original canvas.
Disneyland is your land – don't let this happen.
For further details, check out the original Re-Imagineering post that exposes what corporate Disney is trying to do as well as a follow up post as well.