I am too young to remember the original "House of the Future" that debuted in Disneyland's Tomorrowland in 1957 and closed its doors in 1966 (one year before I was born). The walk-through attraction provided park visitors of that era a glimpse of how they might be living in future.
As you can see by the picture below, it looked like something out of a Jetson's cartoon. The space-aged looking home featured futuristic gadgets such as handsfree phones, wall-sized televisions, plastic chairs, and electric razors and toothbrushes, things that we are all too accustomed to now.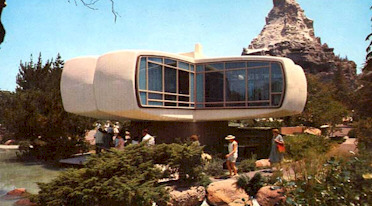 Disney now plans to revive the 'House of the Future' this time in partnership with 21st century technology giants. The Associated Press reports that the 5,000-square-foot modern looking home is scheduled to open in May. While on the outside it will take on the appearance of a normal suburban home, inside it will feature hardware, software and touch-screen systems that could simplify everyday living. The $15 million home is a collaboration of The Walt Disney Co., Microsoft Corp., Hewlett-Packard Co., software maker LifeWare and homebuilder Taylor Morrison.
Here are some of the features we can expect:
Lights and thermostats will automatically adjust when people walk into a room.
Closets will help pick out the right clothing for an event.
Countertops will be able to identify groceries set on them and suggest menu options.
When clicking on the TV remote, lights will dim, music will shut off and the shades will draw as the network realizes a movie is about to start.
The system will allow residents to transfer digital photos, videos and music among televisions and computers in different rooms at the click of a button.
"Other applications still in development could include touch-screen technology built into appliances, furniture and countertops," said Joe Belfiore, Microsoft's vice president for entertainment services. "The home will also feature new uses for devices that many visitors may already own, as well as technologies that are still five or 10 years down the road," said Mike Seamons, vice president of marketing at LifeWare, which makes home automation software.
When it comes to aesthetics, designers decided to stray from the Jetsons-style house built in 1957 which was an all-plastic cross design with four wing-shaped bays that appeared to float. The house was so tough that wrecking balls bounced off it when Disney ripped it down in 1967. "The new home will be made of wood and steel and finished in muted browns and beiges," said Sheryl Palmer, president and chief executive of Taylor Morrison in North America.
The experience of the house will be accompanied by cast members acting out the role of a family of four preparing for a trip to China. The actors will be in a flurry cooking, packing and picture-taking, all designed to emphasize cutting-edge features in the home's two bedrooms, living room, kitchen, dining room, study and back yard. I only wonder how long before the human actors are replaced by Audio Animatronic actors? Disney certainly has the technology, but maybe not the budget for this initial installation.
The new Home of the Future will be located in Tomorrowland but the article didn't indicate exactly where. One would assume that they would place it in the original location which currently is adorned with softscape materials. However, I'm not sure that space will hold a 5,000 square floor plus structure. The article also didn't say if the attraction will be a walk thru or ride thru. One would assume it would be a walk-thru, but it would be more practical to make it a a ride thru as this would allow them to move a lot more traffic through the home.
As the project is scheduled to be open in May (I assume this year), hopefully I can see it when I visit the park later this year. I'm waiting for Disney to complete the new Toy Story attraction in California Adventure before returning for my 8th visit to the park in my lifetime.