The OCRegister reports that the first new monorail car in two decades slid onto the Disneyland track on Thursday as the theme park prepares for guests to ride it starting in late February.
Starting Monday, five flat-bed trucks transported five cars of the first redesigned train from Vancouver, Canada, where they were built. Crews ripped off white shrink wrap, which made the cars look like a Space Shuttle, and took about an hour and 15 minutes for a crane to hoist the nose of the first red-striped train to the parking area.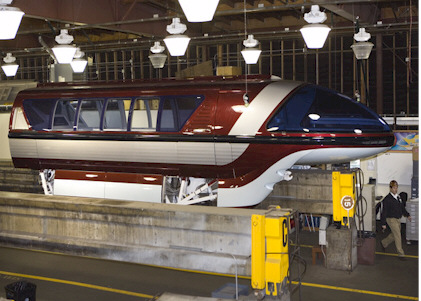 The current fleet of Monorail trains have had their share of problems over the years including breaking down frequently and even situations where parts have fallen off of them in operation. Not too long ago, Disney decided to have new trains built rather than continue to fix the aging ones. However, there is discussion as to how "new" they really are meaning that the company that is rebuilding them may be using some of the original components.
As far as what is different, the biggest change is the look of the new train. The first electric cars have blue glass and red stripes that change color in the sunlight. The next two cars will be blue with purple glass and orange with blue glass. Additionally, bench seats will face the windows, allowing visitors a full view of the parks, Downtown Disney and the Disneyland Hotel. The capacity and speed are reported to remain the same.
More pictures can be found at MousePlanet. There is also a pretty active discussion going on about them at MiceChat.