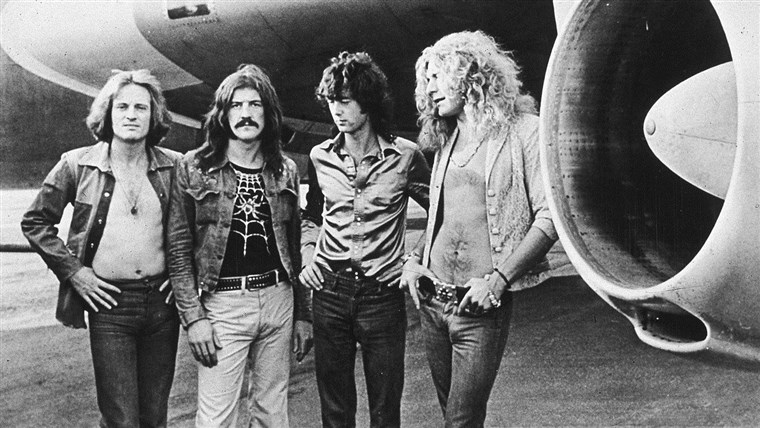 Although they haven't toured since the death of drummer John Bonham in 1980, Led Zeppelin has always maintained their status as one of the greatest rock and roll bands of all time. Let's face it, you cannot listen to a classical rock radio station without hearing a least a handful of their hits each day.
Many people unfamiliar with Led Zeppelin have been indirectly introduced to the band through Cadillac commercials using "Rock & Roll" as their theme song. They even still continue to inspire today's young musicians with their diverse musical style.
Fans have drooled for years over rumors that the band would reunite and go on tour, which has still not come to pass with exception of their one time reunion concert in London next month to benefit the Ahmet Ertegun Education Fund. However, despite the advancement of music sales on the Internet, Zeppelin has resisted offering their music for sale online… that is until now.
The New York Times reports that Led Zeppelin will finally offering its catalog to digital-music fans. "The shift by Led Zeppelin, whose reunion concert in London next month has already incited a frenzy for tickets, highlights the clout of digital sales in the music market as mass merchants reduce the shelf space devoted to compact discs," the Times reports.
Under a series of new agreements expected to be announced today, the band will make its songs available first as ringtones and similar mobile features starting this week in an exclusive deal with Verizon Wireless. Digital downloads of songs from the band's eight studio albums and other recordings are expected to be available through Verizon and digital-music services, including iTunes, on Nov. 13.
Zeppelin's decision to sell its music online coincides with the end of a fierce bidding war over the rights to administer the band's catalog of songs, which includes the classics "Stairway to Heaven" and "Rock and Roll." Under a separate deal the band is to receive an estimated $60 million in exchange for extending its ties to its longtime music publisher, Warner/Chappell Music, for at least 10 years, said three people briefed on the agreement, who spoke on the condition of anonymity because they had not been authorized to discuss it.
I am glad to see them give in, not that they will not greatly benefit from it. However, it will not benefit me personally as I already have their entire collection of music on discs. I guess if my collection ever wears out, I will be glad that I can get their music online even though to date, I still play music the old fashioned way – CDs.