How many people have dreamed of staying overnight in the "happiest place on Earth?"
Besides trying to hide somewhere in the park such as Tom Sawyer's Island, it has never been possible… until now. For the first time in history, lucky guests will have the chance to spend an unforgettable night inside Disneyland during the Year of a Million Dreams starting January 31, 2008 during the 2008 Disney Dreams Giveaway.
Where will these guests stay? In the "Disneyland Dream Suite," which is being created where the Disney Gallery used to reside.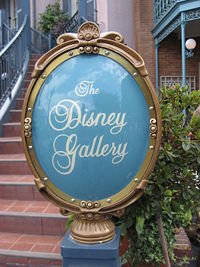 In case you were unaware, The Disney Gallery, which sits above the entrance to the Pirates of Caribbean attraction, closed its doors on August 7th. Disney officials were pretty tight lipped about what would be done with that space only disclosing that it would be replaced by "a new guest experience." It was speculated that the private Club 33 might annex some of the space and/or a royal suite might be created allowing the opportunity for guests to stay overnight.
The space was originally planned to be a deluxe accommodation for Walt Disney where he could have more room for family, friends and even dignitaries than the apartment over the Fire House on Main Street afforded. His dedication to the constant growth and development of Disneyland resulted in frequent overnight stays in the small private apartment which still remains today. In the 1960s, as plans were developed for the New Orleans Square area, Disney brought in illustrator and designer Dorothea Redmond (Gone with the Wind) and set decorator Emile Kuri (Mary Poppins, It's a Wonderful Life) to help him create a larger, more lavish apartment where he could entertain friends, family, VIP guests and dignitaries.
Unfortunately, Walt passed away before the Suite was ever completed. Over the years, the rooms have been used as offices and to entertain visiting business associates until 1987 when the space became The Disney Gallery, a unique venue displaying artwork originally created during the development of various Disney movies and theme park attractions. Only now, 40 years later, is Disney's dream being fulfilled.
Disney Imagineers are currently hard at work remodeling a suite of rooms, restoring them to Disney's original vision of a deluxe living quarters. Vintage design illustrations, created under Disney's personal direction, have been recovered and are being used as inspiration for the look, furnishings and other decor elements in the Suite. Special design touches are being incorporated to evoke memories of Disney's diverse interests and the rich heritage of Disneyland.
"Our plan has been to use the renderings that Walt worked on with Dorothea Redmond and to replicate those as exactly as we can," said Walt Disney Imagineering Art Director, Kim Irvine. "But to make it special for the guests, we want it to be more than just a beautiful suite. We want it to be filled with things that might have inspired Walt as he dreamed of Disneyland."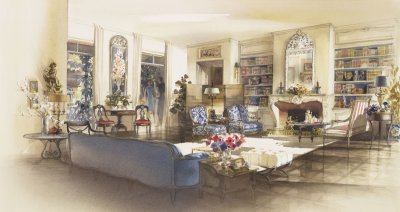 The 2,600-square-foot Disneyland Dream Suite will include a living room, open-air patio, two master bedrooms and two bathrooms. In the first master bedroom, the spirit of early 20th century innovation and the American frontier will be summoned with an earthy color scheme, leather furniture, a cast-iron stove, an electric train and vintage mechanical toys. The other Master Bedroom is on the side of the residence nearest Adventureland, and its lush decor and atmosphere will evoke the exotic flavor of jungle adventure stories as told in the Victorian era.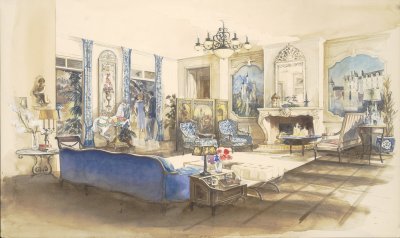 The Bayou-themed Patio, central to the Suite and open to the sky above, will be filled with tropical vegetation, furnished with comfortable chaises and illuminated by Chinese lanterns. Using a type of Disney magic familiar to guests on Pirates of the Caribbean, the Patio will also be visited by fireflies.
As is typical with Disney Imagineers, special effects will be added which may include things like a special tune in a striking clock, a sunset or a starscape that appears when the lights go down, subtle audio enhancements, or something totally unexpected.
Disney is planning to award 266 of these one-night stays in the Disneyland Dream Suite during 2008. Winners will also receive a gift basket, VIP viewing for the parade, and dinner at a Disneyland Resort restaurant (would be nice if it was Club33 which will be next door). The winners also receive VIP viewing for either fireworks and/or Fantasmic!. An added plus is that winners will not confined to their suite after Disneyland closes. A concierge will be on hand at all times to arrange for special after-hours excursions into the theme park if desired.
I would speculate that after the 2008 Disney Dreams Giveaway ends, Disney will make the Suite available to paying guests, most likley at a hefty price tag. If I don't win the contest (in which chances are slim anyway), it would be nice to have the opportunity to stay in the Suite as a paying guest, no matter how much it costs. The only thing that concerns me is how long the waiting list will be. I hear that the current waiting list to join the exclusive Club 33 is 18 years!
The Disneyland Dream Suite will be the supreme addition among the more than a million "dream come true" experiences awarded through random process to eligible Disneyland Resort guests and mail-in participants in the 2008 Disney Dreams Giveaway.
Credits to Mouse Planet and Yahoo! Finance for portions of this article.