Many would argue that California Adventure, Disney's theme park adjacent to "the happiest place on Earth" is not Disneyland, however I beg to differ. True Disneyland and California Adventure are "separate" parks but when I am at Disneyland or rather The Disneyland Resort, I consider the Disneyland park itself, California Adventure and even Downtown Disney all part of the same experience.
Therefore I have justified including a major update to the California Adventure theme park in an ongoing segment I call "Disneyland Updates" classified under the "All Things Disney" category of this blog. Whew – enough housekeeping already, let's get on to the good stuff.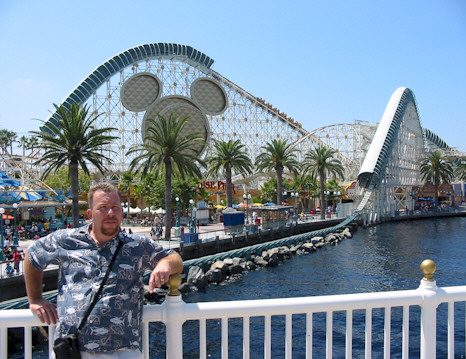 The latest news out of the Anaheim resort is that Disney will spend $1 billion to add major improvements to California Adventure, a park that has struggled to not only define itself since its birth, but also to attract the crowds they had hoped for. Before I write about what improvements and modifications are being discussed at this point, I'd like to focus on some of the good points of the park as well as what is wrong with it.
Four Great Attractions
In case you were unaware, Disney does not refer to rides as "rides" but rather "attractions." California Adventure has four that are outstanding and well worth a visit to the park.
Twilight Zone Tower of Terror – This attraction is probably one of the most thrilling I have been on. The theming is superb. The ride itself is out of this world. This is a must-do for me everytime I visit the resort.
Soarin' Over California – This attraction is so awesome in that it makes you feel like you are at an IMAX film but actually flying at the same time. I love its ending where you fly over Main Street and Sleeping Beauty's Castle while a fireworks extravaganza is taking place. Also a must-do each time I visit the resort.
Grizzly River Run – This is in my opinion the best rapid style rides I have been on. It seems that every major theme park has an attraction like this but Disney's is somehow better.
California Screamin' – Although Millennium Force is my all-time favorite coaster, I rate California Screamin' as my favorite steel sit-down coaster simply because it is a blast to ride. It has a great launch (0 − 55 mph in 4 seconds), is pretty lengthy (6072 feet), maintains very decent speeds throughout (55 mph), has a loop and a fantastic ending. I can ride this coaster over and over again and typically do when I visit the park.
In addition to these great attractions, Mulholland Madness is always fun to ride and the 4-D movies Muppet Vision 3D and It's Tough to Be a Bug! are simply awesome.
The Main Problems With the Park
Although California Adventure has these four great attractions as well as a few others that are noteworthy, the park lacks the magic that its neighbor has. Disneyland to me is an escape from the real world. Once I pass under the tunnels on to Main Street U.S.A., I have left planet Earth and am now in Walt's world. California Adventure just doesn't carry that same element. It could be due to the fact that it does not include the "hub" concept that Disneyland has. It could be the lack of original Disney characters. It could be the quantity of attractions compared to Disneyland. In all reality, California Adventure lacks the magical touch of Walt Disney himself.
One of the magical things about Disneyland is the lands. When you are on Main Street, you actually feel transported back in time right around the turn of the 19th century. When in Fantasyland, you feel like you are in a Medieval setting – castle, court and all. Toontown makes you feel like you have been launched into a cartoon world. Tommorowland has Space Mountain. Need I say more? Adventureland and Critter Country reminds you of the early western era – Davy Crockett, Mark Twain, Huckleberry Finn. Adventureland makes you feel like you are in an African jungle setting complete with village and all, and my favorite place, New Orleans Square, has two of my favorite attractions – Pirates of the Carribean and The Haunted Mansion.
California Adventure is just not the same. The lands do not make you feel like you have escaped but rather are a route to attractions you want to ride. For example, Hollywood Pictures Backlot to me is simply a path to the Tower of Terror ride. While Bug's Land has some cool theming, it is nothing compared to Toontown. It does not make me feel like I have escaped reality like Disneyland does so well.
California Adventure's problems are not due to a lack in talent in Disney's Imangineers as today's Imagineers are some of the most talented Disney has ever seen. Rather, I believe its problems are due to a lack of priority. Therefore I am glad to hear that Disney is going to dump as much funds into improving the park as they originally spent building it in the first place. Now on to some of the improvements we might expect to see.
What Does The Future Hold for California Adventure?
While Disney is typically pretty tight-lipped about coming attractions, improvements to its parks, etc., I did pick up on the following items from a Wall Street Journal story. The improvements will be completed over a five year span. All the while the park will remain open but guests may see a lot of signs of construction such as fences, scaffolding, tarps, etc.
One of the main ideas is to make the park more like its successful neighbor, filled with references to company founder Walt Disney. A key component to this will be redesigning the entrance plaza, now a hodgepodge of California icons, and replacing it with something akin to Disneyland's signature Main Street. This is a good move as California Adventure's entrance has always lacked luster and magic.
The Journal reports, "just as Main Street harks back to Walt Disney's hometown of Marceline, Mo., in the early 1900s, California Adventure's new entrance will trace the footsteps of Walt Disney from when he arrived in Los Angeles in the 1920s. Similar to Disneyland's iconic castle, the redesigned park will feature a replica of Hollywood's former Carthay Circle theater, where Walt Disney premiered the movie 'Snow White' in 1937."
Additionally the park also will be expanded by around 12 acres and will bulk up its attractions, with a heavy emphasis on animated movies created by Disney/Pixar, including "Cars" and "Toy Story." A new area will be created called "Cars Land," which will re-create the fictional town of Radiator Springs from the 2006 Pixar movie "Cars." The centerpiece will be a cutting-edge attraction in the style of Disneyland's popular "Indiana Jones" ride. A flagship attraction based on the animated movie "The Little Mermaid" will be added as well as one based on the feature "Toy Story" (currently under construction).
It is still unclear what will happen to existing attractions. Some that could certainly be axed without this Disney fanatic shedding a tear would include The Bakery Tour, Bountiful Valley Farm, Golden Dreams, Mission Tortilla Factory and the Orange Stinger. There is also a lot of storefronts that either need to be populated with something or re-worked to provide better theming.
It will be an interesting process to watch unfold. In the meantime, I will still be sure to visit the park to ride the four great attractions I mentioned above as well as to see what unfolds in this re-inventing of California Adventure. Disney has done a great job with the various parks in Orlando so now that California Adventure is getting the attention (and money) it needs, I have confidence Disney's Imagineers will work their magic.
[Update: The Orange County Register has created an excellent map detailing the Disney's California Adventure expansion project. Additionally, MousePlanet has an interesting summary of the project.]