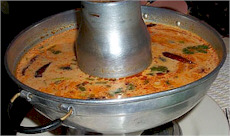 If you have never enjoyed this wonderful Thai soup, you don't know what you are missing. Tom Kha Gai is a hot sweet soup made with coconut milk, lemon grass and chicken. The name literally translates to "boiled galangal chicken." The fried chillies add a smoky flavor as well as texture, color and heat, but not so much that it overwhelms the soup.
We are fortunate enough to have a great little Thai restaurant in Anthem where we work and live. Its called Dara Thai Cafe and if they had a web site, I'd link to it. I kid you not, we order the soup for lunch at least twice a week, sometimes even three times. When I call it in, they know me by name.
So what is in this magical soup? Here are the typical ingredients:
Chicken (bite sized pieces)
Mushrooms (preferably straw mushrooms)
Shrimp (optional)
Coconut milk
Galangal (root)
Lemon grass
Kaffir lime leaves
Coriander
Sugar
Lime juice
Fish sauce
Small crispy fried chillies
A good Thai restaurant will leave the galangal, lemon grass and lime leaves in the soup. However, you don't want to consume these. Just set them aside although I like to suck on the root briefly.
I admit it… my name is David and I am a Tom Kha Gaiaholic. At least its a healthy addiction!